COVID-19 Update - All face-to-face groups have been suspended
Looking for support - join our 
Virtual Support Groups
SOSBSA has had to suspend all of our support groups during COVID-19. We know this hasn't been easy for many of you. We have been working hard to create a safe private on-line space for us to meet with you online. 

We will be running virtual support groups from 1st May.

Dates: Same dates and time as the Brisbane group:
October - 2, 16, 30
November - 13, 27
December 11,25

Time: 7:30
RSVP: No later than 8:30pm Thursday night (the night before group)
Number of attendees - limited - so get in early.

YOUR ACTION:  you will need to RSVP by email to secretary@sosbsa.org.au advising the date that you wish to attend from the email you wish to use on the night.
Please do not phone or send a message in FaceBook.

If you are unable to attend, please let us know ahead of time so that someone else can take your place.

OUR ACTION: we will send you an invitation to attend the online group through MS Teams. You do not have to download anything - you can join in your PC browser or on your phone.

Looking forward to catching up with you soon.  

See you all of the other side of this pandemic.
Click title for details
Click title for details
Click title for details
Click title for details
Quilt made in memory of Brian Grant who left us on 23rd Jan 16. 
Includes lots of his favourite things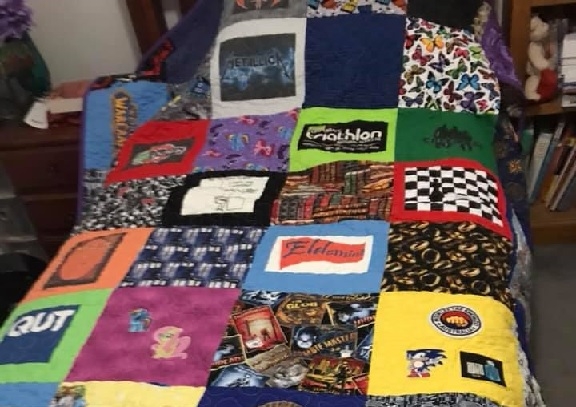 Click title for details